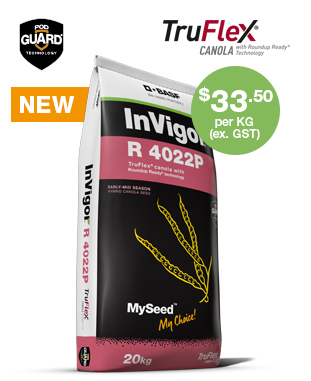 TruFlex® canola is Monsanto's second generation canola trait that helps maximise yield potential through enhanced weed control and increased flexibility.

With the new TruFlex® technology, you can choose to apply either higher rates or a greater number of applications (up to 3) of a registered glyphosate product between emergence and first flower*

And ALL of our new InVigor® TruFlex® varieties feature the unique yield building benefits of PodGuard® to give you not only added flexibility on weeds but harvest timing as well.

Our varieties are on trial and on show this season, key dates can be found at www.truflex.com.au. Try before you buy, contact your local BASF Area Sales Manager about securing some demo seed.

* See product label for rates and recommendations for use. Launch timing subject to regulatory approval.
TruFlex®, Roundup and Roundup Ready are registered trademarks of Monsanto Technology LLC, Monsanto Australia Limited licensee.