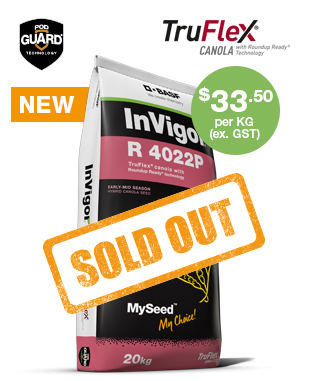 Get superior weed control plus unrivalled harvest flexibility

With improved weed control using TruFlex® Roundup Ready® technology and our very own PodGuard® trait, InVigor® R 4022P is the first and only variety to build yield potential from sowing to harvest.

TruFlex canola with Roundup Ready technology offers greater flexibility in spray rates and timings, extending the window of application beyond the six-leaf stage.

The yield-boosting PodGuard trait can help avoid losses through mechanical shattering during harvesting or shattering during tough weather conditions at harvest, meaning crops have a much better chance of reaching their full potential.

PodGuard provides the flexibility to either windrow later or direct head with less risk of yield loss through pod shatter. You can delay windrowing from 60% to 90% seed colour change or direct head (even bigger crops) with less risk of loss. Canola crops containing the PodGuard trait have produced up to 13%* extra yield gain through more pod fill and less shattering during the harvest process.

To find out more, download the InVigor R 4022P technote and reserve your supply today as seed supplies are limited and will sell quickly.
*Data compiled from 26 paddock demonstration trials in 2015 (with IH51RR) and 19 trials with IH51RR and InVigor R 5520P in 2016.

FACT
SHEETS

Technote