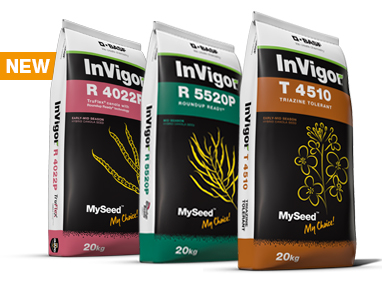 InVigor® is the world's leading hybrid canola brand.

With a name that signifies innovation and performance, it has been launched in Australia with varieties that show a marked increase in yield when compared to previous canola varieties bred with the same attributes.

InVigor® T 3510 hybrid is the new TT hybrid solution for higher yields in lower rainfall areas, delivering T4510 like performance in lower rainfall environments.

InVigor® T 4510 is an early mid-maturity Triazine Tolerant (TT) hybrid that throws off the 'yield shackles' traditionally associated with TT technology and is setting new benchmarks for profitability.

BASF 3000TR is the dual-tolerance variety of choice in early and medium rainfall areas. With the fast start you would expect from a hybrid, BASF's 3000TR allows you to harness the knockdown power of Roundup® and back it up with the residual control of the triazine herbicide.

InVigor® R 3520 has proven to be a standout performer in tough conditions. The 2016 & 2017 NVT results confirmed that InVigor® R 3520 is the new standard in early-season RR performance, and is an outstanding performer when average yields fall below two tonnes per hectare.

InVigor® R 4020P is the next generation RR hybrid variety that has been worth the wait, delivering solid performance across low to medium rainfall areas with the added protection and yield building benefits of PodGuard.

InVigor® R 5520P combines big yield potential with the flexibility of PodGuard®. This variety is suited to medium and high rainfall zones, it has produced excellent results in NVT trials with standard harvest timings – and shown itself to be a proven performer in commercial paddocks where the full benefit of the PodGuard® technology can be realised.

Together, the six varieties show that InVigor® hybrid canola offers growers a distinct advantage over less innovative varieties.